55 viewers on April 12, 2015. Bad marketing! ;-)
See India's daughter here!!!
India's daughter was shown on Swedish TV2 Sunday 8 March. It is now on SVTplay until April 7.
It will also be sent by CBC, Monday 9, 8.30 AM
Indian time
. (I hope I counted right.)
INDIA - such a big, multicultural, marvellous and terrible country. The country of Gandhi and civil defence. The country where people dare to go out on the streets to protest - and where they do it. The country of strong female leaders. The largest democracy of the world. A country to be proud of.
A country with old traditions and attitudes that some are ashamed of. A country with old philosophies that westerners admire. A country under transformation.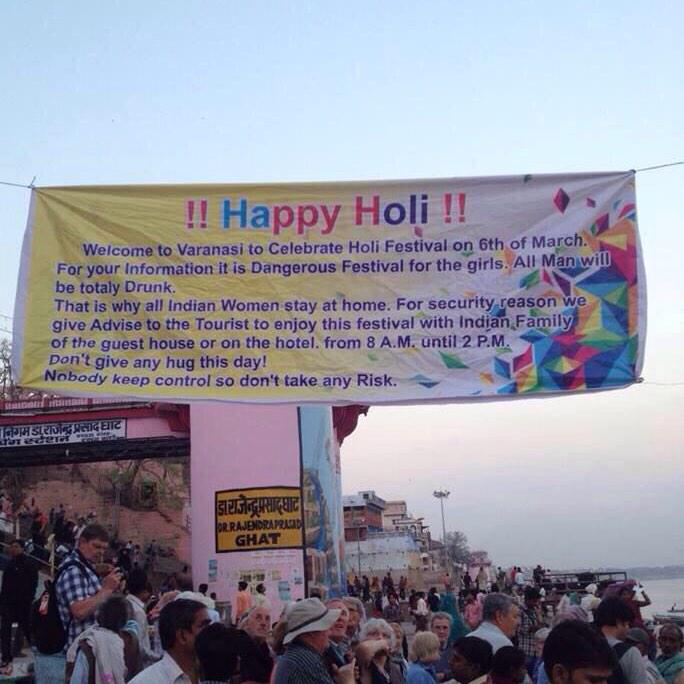 Holi is a Hindu festival, the same day as this text was written. The main thing, as far as I understand it, is to throw paint on each others.
It's not long ago that judges in Sweden said that a girl was responsible of her own rape. She wore too short skirt, or she behaved the wrong way. After decades of discussions, protests etc, the attitude of the society changed. Today, a man is regarded as adult and responsible of his own actions, whether he is getting drunk, is raping or is using violence towards a woman - including his own wife. Raping, sex whithout consensus, is criminal. Always.
Still, there are men who don't take in this. There are men who again and again assault their women, "because she deserves it" or "for her own good". The violence often includes raping, having sex without waiting for her "yes". They might even be convinced that women like being raped. These men often has a difficult childhood, they might have been abused (sexually or otherwise). Empathy is missing.
So we have built up support for raped and assaulted women. The police is educated, most of the know what to do when they meet these women. The emergency rooms at the hospitals have special routines. Sheltered housing is there. But still, every year, in this small and peaceful country, several women are killed by men with whom they had a relation. Domestic violence and sexual abuse exist in every country, every culture, every social class.
In India, laws are there, but they are not implemented. There are traditions that say that a human being of female sex has no value. Expressed by a woman: "
Men think woman is a harmless domestic animal
". Expressed by a man: "
We have the best culture. In our culture, there is no place for a woman
." Therefore, human beings of male sex in high position (police, judges, politicians etc.) are not interested in the implementation.
We recognize this also from western societies - it is actually a question of power. It seems like male human beings, from puberty and uppwards, need to be superior to someone. Many men manage to socialize themselves towards a more civilized attitude. Some societies manage to socialize themselves.
The discussions in India started in 2012, after the gang raping and killing of a young woman, just because she was out in the evening. People were demonstrating for months - socialized human beings of both sexes.
A film,
India's daughter
, was made. It includes an interview with one of the condemned, the content of which is already spread in media. This interview has led to a ban on showing the film on Indian TV on the International Women's Day March 8.
What's the real reason?
I can only figure out one. Some (a few?) human beings of male sex, in high positions, don't want to have their own views so openly demonstrated and criticized. They want to go on pretending that India is a modern society, at the same time keeping "invaluable Indian traditions".
A country that accepts that 50 % of its human beings use violence towards the other 50 % is not a modern country.
The people of India knows this
.
And the people outside India know. India's position sank a little in our respect. Specially among women. We don't want to be raped like the
51 year old Danish tourist
.
The discussions and the protests will not stop. The younger generations of Indian girls and women know that another life is possible - a life where human beings of both sexes have the same value. The travel towards being a modern society has started, and it will not stop.
I used to say: "If you want healthy and strong grandsons, search for a daughter in law who got the best food as a child and teenager, and who has a good education." Men often looked embarrased, women laughed. But this is common public health knowledge.
SIGN the petition
to India's home minister to reverse the ban on India's daughter.
READ AND LISTEN
My blogs about India
India's daughter: 'I made a film on rape in India. Men's brutal attitudes truly shocked me.'
The Guardian 1.3.2015
Nirbhaya's parents talk to NDTV about documentary on 'India's daughter"
NDTV 3.3.2015
Delhi rapist says victim shouldn't have fought back
BBC News Magazine 3.3.2015
India's daughter, review: 'chilling'
The Telegraph 4.3.2015
Heated debate in Parliament over Nirbhaya documentary 'India's daughter'
NDTV 4.3.2015
Here's why MHA banned the documentary on 2012
Delhi gang rape DNA India 4.3.2015
India's daughter banned? It should be compulsory viewing
NDTV 4.3.2015
No, Yoti Singh is not India's daughter
Quartz India 5.3.2015
"India's daughter" - a young woman's open letter to the Prime Minister
NDTV 5.3.2015
India's daughter review - this film does what the politicians should do
The Guardian 5.3.2015
The selective amnesia of 'India's daughter' - what the film conveniently ignores
Youthkiawaaz 5.3.2015
Actress MP Khirron Kher impressive speech about Nirbhaya documentary / India's daugheter
Youtube 5.3.2015
Editors Guild of India urges Government to revoke ban on 'India's daughter'
DNA India 6.3.2015
Ban on Nirbhaya documentary: Let's accept it, we are offended by your own ugliness
DNA India 6.3.2015
'I am standing my ground for this film', says maker of Indian rape documentary
Washington Post 6.3.2015
Nandini Dhar
Facebook 6.3.2015
A not on India's daughter, free and fair trial and hate speech
Facebook 6.3.2015
BBC India's daughter - the story of Jyoti Singh - is it really that shocking?
The Blog 6.3.2015
Silencing 'India's daughter'
The New Yorker 6.3.2015
India's daughter: Since the Delhi rape things have got worse
The Guardian 6.3.2015
Talking about rape
Kalpana Sharma, The Hindu 7.3.2015
India's daughter
CBC News 8.3.2015
Inside the minds of rapists
The Asian Age 8.3.2015
A nation split over India's daughter
Bloomberg view 8.3.2015
A teen's response to 'India's daughter'
NDTV 8.3.2015
NDTV channel protests against India's Daughter ban
BBC 8.3.2015
An anti-rape activist is disturbed by India's daughter
NPR 10.3.2015
Nirbhaya's friend, who was with her on the fateful night, calls India's daughter a fake film
IBN Live 10.3.2015
India's daughter and BBC - Belgian professor speaks out
NITI 11.3.2015
What Indians won't see: Banning India's daughter is a terrible idea
New York Times 12.3.2015
I'm not India's daughter
The Atlantic 12.3.2015
Delhi high court refuses to rule on India's daughter ban
The Guardian 12.3.2015
Films
It's your fault
Youtube 21.9.2013
"Our freedom is not your freedom to rape"
Youtube 7.3.2015
In Swedish
Våldtäktsfrågan delar Indien
(The rape issue divides India) Omvärlden 6.3.2015
http://intressant.se/intressant